About us
WHO IS STHETIX
Almost 50 years ago in late 1960's - SHEILA PASRICHA of Mumbai scoured the Makrana area of RAJASTHAN for high quality craftsmen. She sought to provide not just design inputs to develop a line of hand crafted Marble lamps but develop craftsmen to understand her penchant for extreme detail and proportion. Though a small group; there is now a third generation working within that culture. Though India has perhaps the finest stone craftsmen, few have been allowed and covered to take the risk of breakage and invest hundreds of hours in post carving finishing – to make elements in stone thinner and finer.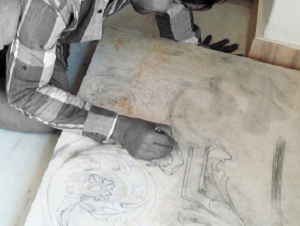 After she passed away in 2009, the craft ethic is still being kept alive and now further developed to make larger elements, including art like façade panels and indoor murals. The desire is to extend applications beyond the interior of homes to external elements that enhance the value of a building or structure, and make it into a Landmark!! The examples on website are the few examples of lamps for interior and urns for entrance or Hotel lobby.
FOR INTERIOR DESIGNERS WHO SEEK TO LEAVE THEIR STAMP OF EXCLUSIVENESS
STHETIX is known for exclusive designs and its precision craft for Marble bases which are used for lamps and pillars with inner lighting. The low volume detailing allows each element to be finer, by hollowing out the stone (post carving). The thinner wall thickness allows for soft inner lighting to come through the stone when used as pillars or back lit customized panels. Every "Sthetix" product has a finish based on the quality culture developed over decades with 3rd generation of family workers. Click to read "WHO IS STHETIX ?" Click here & "GET IN TOUCH" if you are an Interior Designer who would want to reward your client's project with something very special leaving your exclusive mark with a clear differentiation.